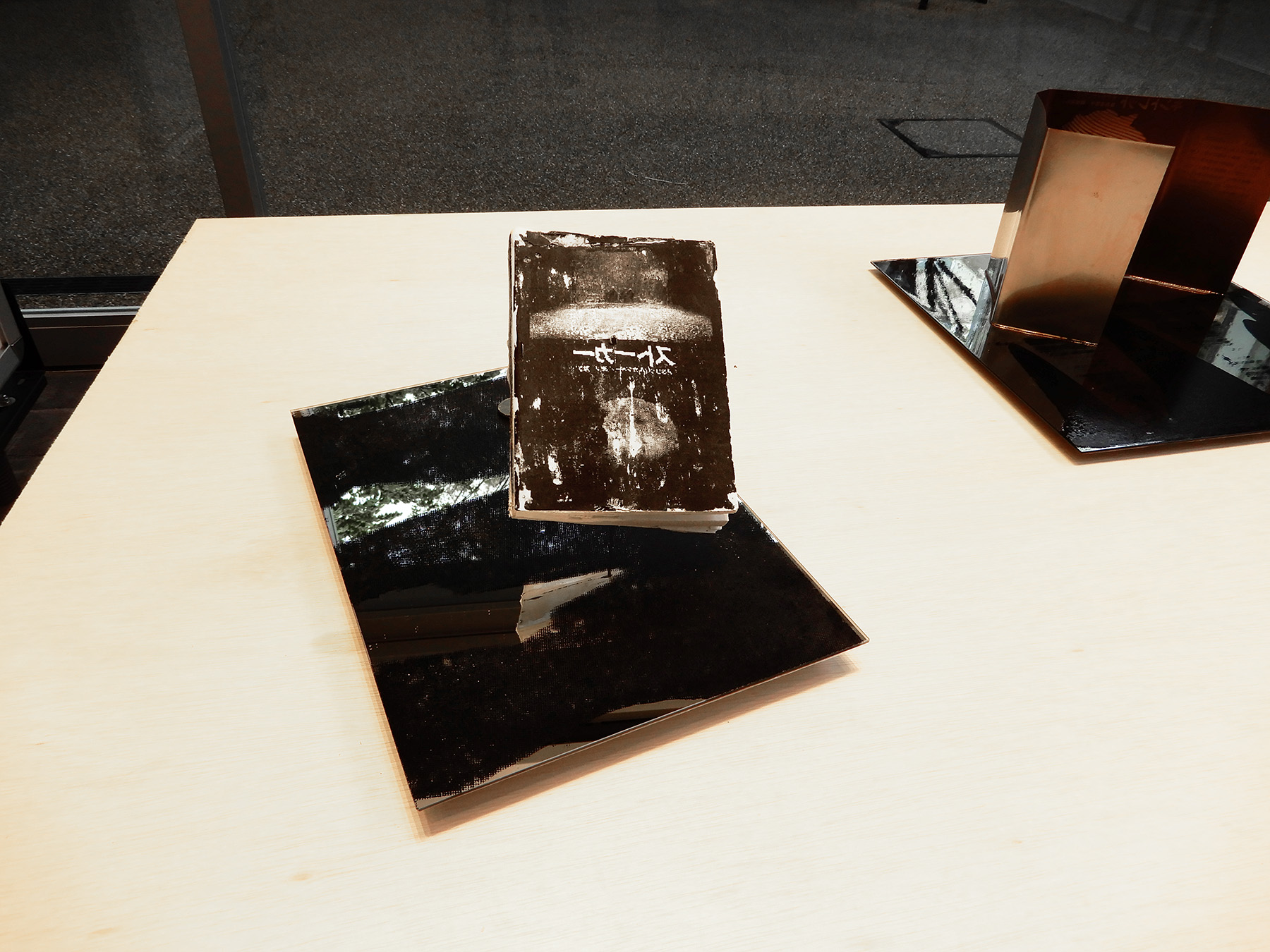 "Speculative Object"
2022
Oil paint on printight, silkscreen print on mirror, urethane resin
Plaster, UV resin, metal leaf, gel medium, toner ink, wire, wood
"Speculative Object"
2022年
プリンタイトに油絵具、鏡にシルクスクリーン、ウレタン樹脂
石膏、UVレジン、金属箔、ジェルメディウム、トナーインク、針金、木
In conjunction with this SF book fair, I have exhibited two series of work I did that were influenced by speculative fiction literature. In one series, the covers of paperback SF books have been made into aluminum resin plates for photogravure printing, in the other series, book covers have been transferred onto plaster sculptures using copy toner. In both series, the images and forms of the books have been reversed. In this work, I try to recreate each person's unique experience of books and reproduce the fictional time and space of books in real time and space. I wanted to show these works next to real books, which are the original source that inspired these sculptures.
SFのブックイベントに併せて、SFの本をモチーフとした立体作品を展示した。文庫本の表紙を、写真製版用のアルミ樹脂版に製版した版のシリーズと、石膏で型取りした本の立体の表面に、本のカバーの白黒コピーのトナーインクを転写した作品シリーズは共に、表面の像、形態ともに、本を反転させた形を取っています。本という複製メディアの経験のオリジナリティとそこにおけるフィクショナルな時空間を、転写・反転させることで実際の時空間へ再構成した作品を、この作品にとってのオリジナルである本の中に置いてみたいと思いました。
Back